Altın İplik ve Çorap Sanayi A.Ş.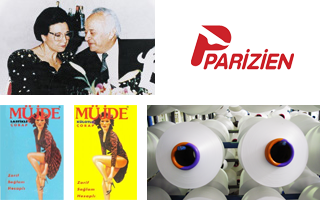 Turkey's leading hosiery and nylon yarn producer Altın Iplik ve Çorap was established in 1945 by its founder Jojo Doenyas in Sultanhamam as a factory producing men's socks. Beginning of the foundation for the first yarn and sock factory in the 1960's, the company produced garter hosiery, followed by the first seamless hosiery brand Parizien in 1973.
Achieving a first in 1981 with its brand MÜJDE, Altın Iplik delivered hosiery to even the most remote corners of Turkey. Today, Altın Iplik maintains its leadership in the Turkish women's nylon hosiery market with 99% brand recognition and 65% market share.
Established with a visionary eye, hard work and determination Altın Iplik is the 'world's only integrated hosiery plant' that can manufacture hosiery from polyamide chips at its yarn and hosiery plants. Built on a closed area of 60,000 m² Altın Iplik's production plant in Çerkezköy employs around 1,000 people and has a capacity of manufacturing 9 million dozens of socks and 6,000 tonnes of yarns. The company exports hosiery and yarns to over 40 countries across five continents, out of which 55% of the exports are made to European and North American countries.
Equipped with state-of-the-art technology from Italy, Japan, UK, and Germany Altın Iplik ve Çorap Sanayi A.Ş.'s products and processes are built on globally accepted standards related to environment, occupational health, quality, and social responsibility. All of our employees are guided by these standards.